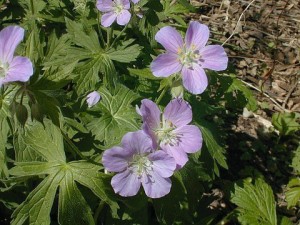 This native perennial plant is 1-2½' tall, consisting of a loose cluster of basal leaves and flowering stems that develop directly from the creeping rootstock. On the lower portion of each flowering stem, there is a pair of opposite leaves. Both the basal leaves and the lower opposite leaves of the flowering stems have a similar appearance.
They are up to 5″ long and across, and palmately cleft with 5 deep lobes. Each of these lobes is wedge-shaped at the base. The leaf margins have a few secondary lobes and coarse teeth. Each leaf has long petioles with coarse white hairs, while its upper surface has fine white hairs. The flowering stems are covered with coarse white hairs and more or less erect. The upper pairs of leaves on the flowering stems are like the lower leaves, except they are smaller in size and usually have only 3 primary lobes.
Common at ROLF in May to early June.