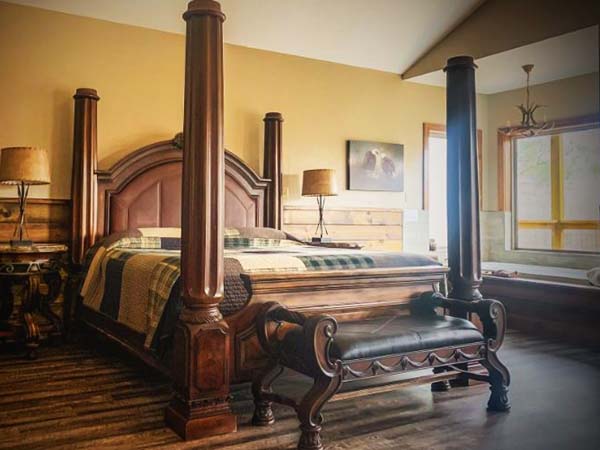 The Treetop Hideaway
Hidden in the stream-side tree tips, the Treetop Hideaway tree house cabin was built by local craftsmen to provide the perfect  Missouri cabin romantic vacation.  It's the ultimate spot for two to get away from everything, get close to nature, and relax while enjoying all the comforts of a first class vacation. The Treetop Hideaway tree house has been handcrafted with stained glass windows, cedar cabinets, and a native stone fireplace to set the mood for that great romantic vacation you've always dreamed of.
Secluded within the ROLF's 500 acres, the Treetop Hideaway cabin has a great overlook of the North Fork from its private deck. The sound of the river will lull you into relaxation like you've never felt before. It's the perfect secluded hideaway cabin for an anniversary romantic vacation getaway.
The Treetop Hideaway tree house cabin is beautifully custom crafted of native red cedar woodwork throughout the cabin. All the modern comforts of home including a fully equipped kitchen, microwave oven, and air conditioning are there for your needs.
Whether on a honeymoon, anniversary celebration, ecotourism trip, or a special get away, you are sure to enjoy the peaceful seclusion of the Treetop Hideaway tree house Missouri cabin.  Each season offers something special along a wild stream and the Treetop Hideaway cabin is open all year.
The kitchen sink window frames a bald eagle's nesting tree on a distant mountain.  You may watch these majestic birds capture fish on the wing as you relax on the cedar glider on the covered deck.  Native rainbow trout, river otter, beaver, muskrat, kingfishers, and great blue heron are just a few of the abundant streamside wildlife.  After a day of hiking, fishing, or boating (canoeing, rafting, or kayaking) or exploring the Ozark culture, you may relax in a double marble whirlpool tub.
Access to the "miracle mile" of rainbow trout fishing, the finest in the Missouri Ozarks, is included. The ROLF grounds and next door Mark Twain National Forest offer numerous hiking and nature sightseeing trips for all skill levels.
The view of the North Fork is fabulous and can be enjoyed from the deck, which includes a swing, table, and chairs. The trees growing around the deck make this very memorable and a unique one of a kind MO vacation. What could be more spectacular that enjoying the Ozarks from a one of a kind tree house overlooking a spring river?
Please call early for your lodging reservations at the Treetop Hideaway Cabin on the North Fork River.
Rates:
$279 per day for 2 guests

NOTE:  All online reservations requires a 2 night minimum stay. If you desire 1 night lodging only, please call for availability.
(Prices do not include MO sales tax)
NOTE: 
ALL cabins have a Charcoal BBQ. Charcoal and lighter fluid is available for purchase at the ROLF Store.
ALL cabins have full kitchens with eating accessories. Please bring your own paper products if desired.
ALL cabins have towels, bedding & extra blankets. Bathrooms are stocked with paper.
NO PETS Please. See our policies page.
Reservations:
A deposit of one nights lodging, or one-half of the total lodging amount (whichever is larger), is required. This can be secured by credit/debit card.
Cancellation Policy:
If the reservation is cancelled 30 days prior to arrival, the deposit will be refunded less a $25. or 5% of deposit; which ever is greater.
No refund if cancelled less than 30 days in advance (unless the accommodations can be re-booked to another party)
Check in / Check out Times:
Official time for check in is 3 p.m. unless your cabin is clean & ready before then.
Checkout is 11 a.m. unless there is not a check in party waiting for the cabin.  In this case we will work to give an extended check out.