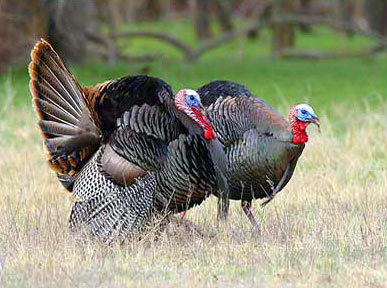 Hunt the Missouri Ozarks
Whether you hunt with a firearm, bow, or camera, the Missouri Ozarks and Mark Twain National Forest offers the avid sportsman, or woman, an adventure to remember a lifetime. Wildlife is abundant in the rustic Ozarks, and game animals may be harvested with the proper license and permits. Turkeys are a top game bird in Missouri.
A large Missouri Ozark Buck whitetail deer.
The River of Life Farm is located in Ozark county, adjacent to the Devil's Backbone Wilderness section of the Mark Twain National Forest. Hunting is allowed within the forest, in designated public hunting areas. The game of choice, for the area, is Missouri whitetail deer and turkey. A spring and fall wild turkey season and a fall deer season bring hunters from across the US to pursue their game. While whitetail deer and turkey are the most popular; quail, dove, squirrel, and coyote hunting are also local favorites.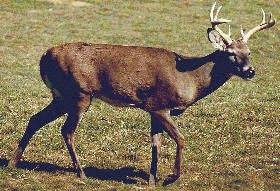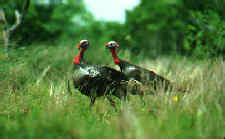 A pair of turkeys for the taking.
The 6,595 acres within the Devil's Backbone Wilderness region offers easy access to public hunting grounds, to harvest Missouri whitetail deer or turkey, and other game animals. We can offer shuttle services back and forth to the hunting area (for a fee), leaving you to concentrate solely on your hunt.
Make one of the lodging options at the River of Life Farm your home base, as you hunt whitetail deer or turkey, two abundant game animals in the area. Ozark county and the surrounding area rank high in the state for deer and turkey populations, and offer both the hunter and photographer a thrilling adventure.
Guests of the River of Life Farm may book private hunting grounds and guide services for whitetail deer and turkey hunts, with enough advance notice. Please call Myron for details.  For more information on Missouri hunting and hunting regulations, please visit the Missouri Department of Conservation Hunting Page.
Visit our Lodging page to plan your stay in our Treehouse Cabins and Lodges.
Please observe all Missouri hunting regulations and hunt safely.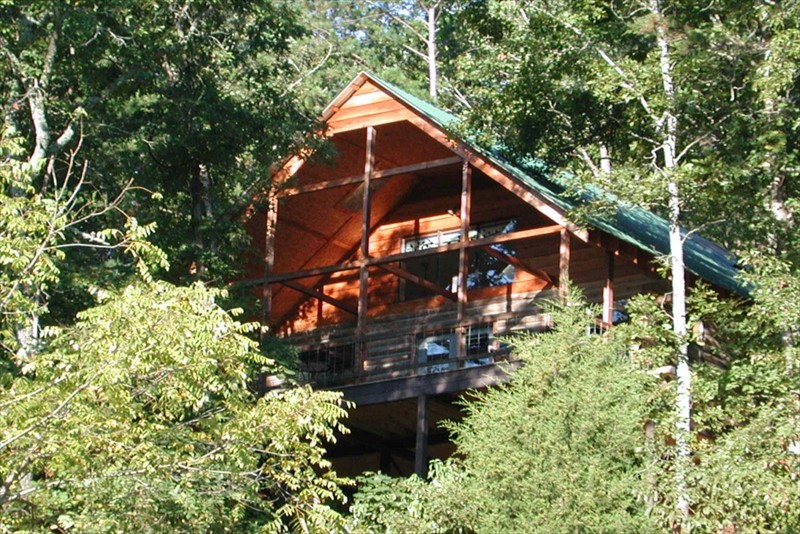 Missouri Treehouse Lodging
River of Life Farm offers many lodging selections to choose from. We can accommodate from 1 to 14 guests. Plan your next vacation, honeymoon, anniversary or romantic weekend in our luxurious treehouse cabins nestled in the scenic Ozarks.