Ozark Public Television Article
The program: RIVER OF LIFE TREE HOUSE CABINS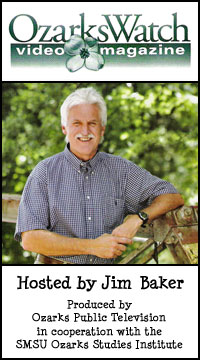 OzarksWatch Video Magazine is a weekly 30-minute program hosted by Dr. Jim Baker, Executive Assistant to the President of SMSU.
The goal of the series is to increase a knowledge and understanding of the richness and complexity of the Ozarks. The show also attempts to promote a sense of place for residents and serve as an educational resource by continually documenting and archiving cultural elements and providing access to their information.
The program comprises of in-studio interviews and location features and as an outreach of the SMSU's Ozarks Studies Institute. Expert guests on the show often offer living examples of vital Ozarks traditions. Location features supplement and develop in-studio interviews by providing viewers personal glimpses of examples and representations of Ozarks heritage.