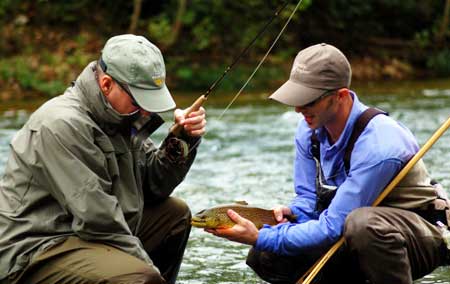 Fly Fishing Guide Brian Wise
e-mail  bnwise@gmail.com  cell  417-683-0516
Background
Fly fishing is not a hobby for me, it is a way of life. I love every aspect of this wonderful sport, the river, the fish, and the feeling of peace. When I am not on the river, I am tying flies or reading everything I can to help my fishing and ultimately my guiding. 
About Brian
Brian Wise is a fly fishing guide in extreme southern Missouri. His mainstays are the wild rainbow trout and large predatory brown trout of the North Fork of the White River, but he is also a self-proclaimed smallmouth junky and loves the seasonal striper fishing as well.  Priding himself on his teaching abilities and flat-out big fish catching karma, Brian has quickly made his way among the top guides in the Midwest. He has been the head guide at River of Life Farm for over a decade and has been featured in print such as Southern Living Magazine, Outdoor Life, Fly Fisherman, Field and Stream, Rural Missouri Magazine, on television shows such as NBC's Today Show, Outdoor Channel's Ultimate Outdoors, several appearances on Outdoor Channel Outfitters, and is a Field Producer for Chasing Waters on the Pursuit Channel. He was a 2007 qualifier for the coveted Best of the West distance casting competition and won the Bennett Springs distance casting competition with a whopping cast of 106 feet. When Brian isn't guiding, he is fishing with his 8 and 10 year old boys. His fly tying and fly fishing videos are quickly making their way to the top of the list, and the Fly Fishing the Ozarks Youtube Channel is the fastest growing channel in the fly fishing genre.
"Having Brian Wise guide for ROLF has brought professionalism and positive qualities to our business. Brian's skills are tops, his joyful personality is contagious and I have absolute confidence in him. Brian trains our guides, speaks publicly for ROLF and leads our flyfishing program." – Myron McKee, River of Life Farm
Fishing the North Fork – Fishing Tactics | Flies | Fly Tactics | View Brian's Blog ~ Fly Fishing The Ozarks
Brian has the ability to cater to what ever kind of trip you are looking for. For beginner fly fisherman he can teach you the art of fly fishing in his laid back and fun style of teaching. For the experienced fly fisherman he can help work out the bugs and fine tune your skills. If all you want to do is CATCH FISH he can do that too!
At the end of the day he often stays to do casting instruction to help "tweak" your casting stroke. Working with casting champions & Master Casting instructors has helped him become an outstanding casting teacher. Whatever you are looking to accomplish out of your time with Brian he will give you 110% to achieve your goal.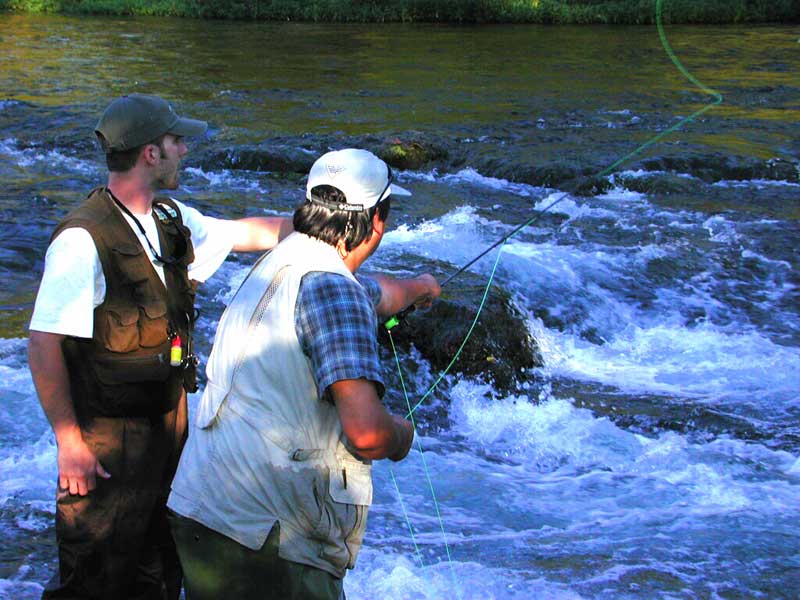 Fishing the North Fork
Fishing Tactics
The North Fork being a large river for Missouri Trout fishing has it's "good" water and it's "not so good" water just like any other body of water that holds fish so reading water is key. Here is what I look for in any given fishing spot:
Seams — Where fast water meets slow water.
Drop Offs in a riffle or at the end of a riffle
Eddys — the slow water on either side of the fast water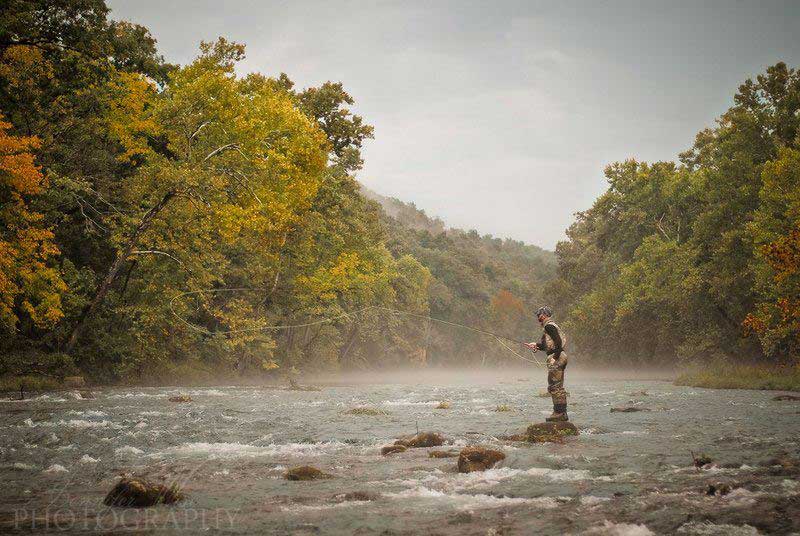 These three things will produce the best numbers of fish.
I fish faster water and riffles 75% of the time….they are the better producers. But some of the slow deep pools hold some HOGS so you may not want to pass them up!
While nymphing faster water make sure the flies are deep. Split-Shot (weight) is a necessity on the North Fork.
But even with weight it is very important to get a good dead-drift to get the fly down in this fast water, and most importantly to get the most natural movement out of the fly. I focus on the riffles, in the headwaters above them, the tailwaters below them, and all through the riffle.
When using a strike indicator be sure to use one that can be easily moved up and down the line to move with the ever-changing river depth.
Favorite Flies
Nymphs:
Prince * ~ Size 14-10
Kauffman Stonefly ~ Size 10-4
Hare's Ear ~ Size 16-12
Pheasant Tail ~ Size 16-12
Crackle Back ~ Size 14-10
*Ask Brian about his Teal Prince
Streamers:
Wooly Buggers ~ Olive, Black, Brown
Mohair Leeches ~ Olive, Tan, Rust
Sculpin Patterns
Dries:
Adams
Elk Hair Caddis
Stimulator
Blue Winged Olives
Cahills
Griffith's Gnat
Terrestrials:
Near 'Nuff Crayfish
Kyle's Pine Squirell Crayfish
Madam X
Dave's Hopper
Fly Tactics
As for dry flies I like using Elk Hair Caddis, Griffith's Gnat, Stimulators, and Duns with the occasional terrestrial in the summer and fall.
Skating the Elk Hair Caddis through the riffles works real well, while drifting and skating everything else.
When casting to rising trout try to "match the hatch" or I like to use Griffith's Gnats because they can imitate so many flies.
Click on the photos to enlarge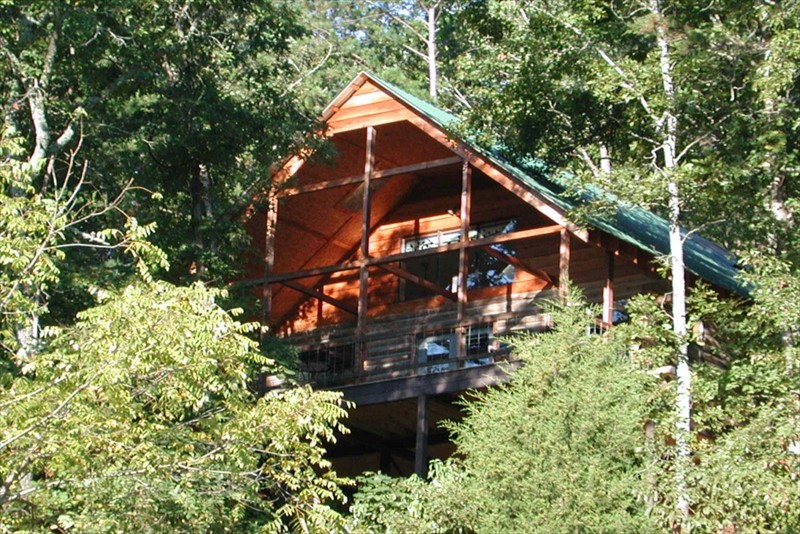 Missouri Fly Fishing Lodging
River of Life Farm offers many lodging selections to choose from. We can accommodate from 1 to 14 guests. After a great day of fishing, relax in our comfortable cabins secluded in the scenic Ozarks.