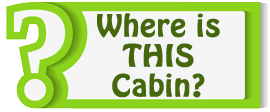 Click here to download PDF version
NOTE: All online reservations requires a 2 night minimum stay. If you desire 1 night lodging only, please call for availability. (EXCLUDES Rainbow Springs Lodge – 2 night minimum stay required)
(Prices do not include MO sales tax)
NOTE: ALL cabins have a Charcoal BBQ. Please bring your own charcoal and lighter fluid.
ALL cabins have full kitchens with eating accessories. Please bring your own paper products if desired.
ALL cabins have towels, bedding & extra blankets. Bathrooms are stocked with paper.
NO PETS Please. See our policies page.
Reservations:
A deposit of one nights lodging, or one-half of the total lodging amount (whichever is larger), is required.
This can be secured by credit card, or by personal check.
Cancellation Policy:
If the reservation is cancelled 30 days prior to arrival, the deposit will be refunded less a $25. or 5% of deposit; which ever is greater.
No refund if cancelled less than 30 days in advance (unless the accommodations can be re-booked to another party)
Check in / Check out Times:
Official time for check in is 3 p.m. unless your cabin is clean & ready before then.
Checkout is 11 a.m. unless there is not a check in party waiting for the cabin. In this case we will work to give an extended check out.