| Missouri Dining at the River of Life Farm Falls Restaurant
Enjoy delicious meals prepared by our chef in our Lodge Falls Restaurant
trout lodge, north fork river, outfitters, reservations, lodge, lodging, fireplace, north fork, trout, missouri, trout fishing, fishing, missouri trout lodge, ozark, cabin, ozarks, eagle's nest lodge, missouri ozarks, missouri dining, the falls restaurant
4663
page,page-id-4663,page-child,parent-pageid-827,page-template-default,ajax_updown_fade,page_not_loaded,,large,shadow3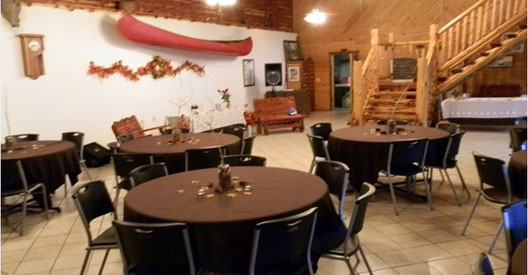 Enjoy dining in our Lodge Restaurant as our Chef prepares delicious meals daily. Start your day off with a healthy breakfast and be sure to check out our tasty dinner menu.
Note: If you have any special requests or needs please e-mail us in advance so that our chef is better prepared to  accommodate your requests. 
Note: Please have dinner requests in by 3pm the day of.
Buffet Specials : Effective: 5/27-8/4/17 
                                                                    Dinner Buffet: Friday and Saturday Nights Only                                           
Friday Night Fish Fry                                                                                    Saturday Night Ribs and Wings
Comes with 2 sides                                                                                                   Comes with 2 sides
Dessert Menu Available                                                                                          Dessert Menu Available
$15.99 per person                                                                                                    $15.99 per person
Breakfast Buffet: Saturday and Sunday Only
Breakfast: $8.99 per person
Includes: juice and coffee
scrambled eggs, sausage, bacon, fried potatoes,
pancakes, and biscuits & gravy
Please give us advance notice of your meal plans.   Click here for our MENU