| Missouri Trout fishing Rainbow Springs
Missouri Trout fishing and fly fishing on the North Fork River, Missouri Ozarks, for wild rainbow trout and brown trout
Rainbow Springs, Rainbow Springs trout fishing, outfitters, missouri trout, north fork river, lodging, wild rainbow trout, brown trout, north fork, trout, missouri, trout fishing, norfork lake, Wild Trout Management, Trophy Trout Management, wild trout, fly fishing, Rainbow springs, wade fishing, bass, ozark, ozarks, fishing, fly fish, missouri ozarks
845
page-template-default,page,page-id-845,siteorigin-panels,siteorigin-panels-before-js,ajax_updown_fade,page_not_loaded,,large,shadow3

Rainbow Springs
(aka; Double) Springs,
Ozark County MO
Guided Missouri Trout Fishing Trips in Missouri's 3rd largest spring.
Plan your Missouri guided fly fishing trip now in Missouri's 3rd largest spring right here in the Ozarks. This 3/4 miles spring fed lagoon is the perfect place for your next trout fishing adventure.
Average Flow: 82 million gallons per day (127* cubic feet per second). Only a few dozen flow measurements have been taken over the years. A measured maximum of 207 million gallons per day or a rate of 321 cfs puts it definitely into the "big spring" category, but the true measure of this spring is unknown. Seven measurements from 1993 to 1995 produced an average of 228 cfs (147 million gallons)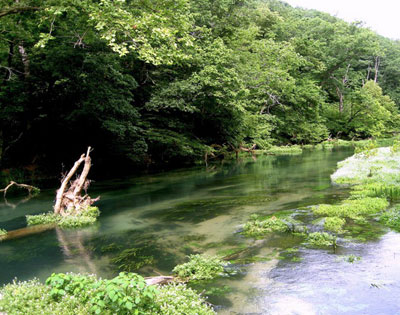 Recharge Area: Double Spring and nearby North Fork Springs supply area includes the upper gasconade drainage including Wolf Creek, Fry Creek, and Lick Fork. Sinkholes and losing creeks in the area also contribute.
Catch and release only: fly fishing, using only single hook, artificial flies including wet, dry, nymphs terrestrials, and streamers.
Call us today to schedule your guided fly fishing trip at 417-261-7777 or visit our Guide Services page