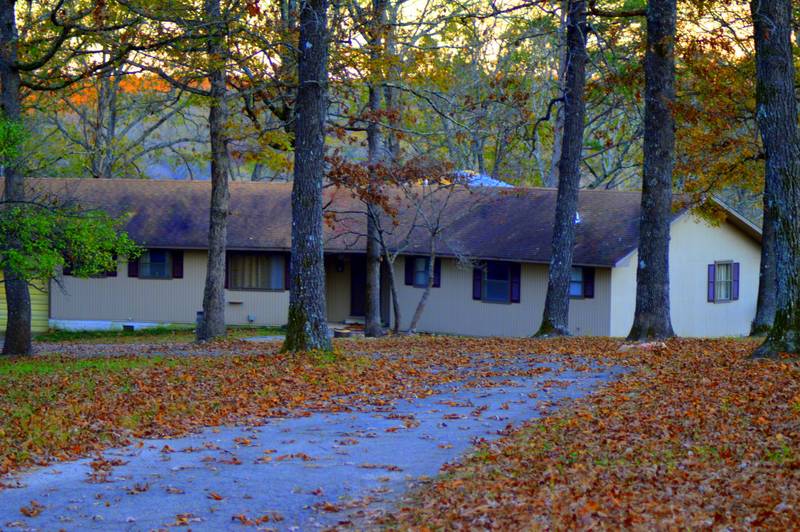 [dropcaps style='normal' background_color=" border=" border_color="]R[/dropcaps]iver of Life is excited to announce the River Heights Lodge. It's the perfect secluded cabin for a family getaway who wants to get back to nature. The ROLF grounds and next door Mark Twain National Forest offer numerous hiking and nature sightseeing trips for all skill levels. All the modern comforts of home including a fully equipped kitchen, microwave oven, and air conditioning are there for your needs.
The River Heights Lodge includes: master bedroom with a king size bed with bathroom attached, 3 bedrooms (1 queen size bed in each room), living room with a queen sleeper sofa, den, kitchen with a small dining room table and  formal dining room with seating for 6.
It's the perfect Missouri secluded cabin for your  family getaway, Ozark hiking vacation, canoeing/floating trip, and family vacation. Plan a day outing to nearby Missouri attractions. Enjoy a day on the river with Missouri's finest fly fishing guides. Make your reservation now! We are open all year!
Rates:
[insert page='missouri-lodging/rates/river-heights-lodge-rate' display='content'] per day for the first 6 people
Maximum Occupancy: 10
$25 per each additional adult.
$10 per each additional child 5-11 years.
[insert page='make-reservations-today' display='content']
[separator type='normal' color='#c1c1c1′ thickness='2′ up=" down="]
[insert page='river-heights-lodging-insert' display='content']