| Treehouse Cabins, Missouri Cabins, Missouri lodging, romantic, canoeing, fishing, fly fishing, trout fishing
River of life Farm Treehouse Cabins - lodging, fly fishing and Canoeing in the Missouri Ozarks, trout fishing, camping, hiking, and more.
lodges missouri, lodges ozarks, lodges near Springfield MO, lodges near Branson MO, missouri ozarks, missouri conference center, ozarks conferences, Missouri Cabins, lodging Missouri, North Fork River, Missouri Treehouse Cabins, ozarks fly fishing, Missouri trout, Missouri trout fishing, Missouri lodges, Missouri cabins, Missouri lodging, Missouri hiking, Missouri camping, Missouri canoeing, Missouri float trips, Missouri fishing, Missouri honeymoon, Missouri romantic getaway, Missouri conferences, Missouri family reunions
800
page,page-id-800,page-parent,page-template-default,ajax_updown_fade,page_not_loaded,,large,shadow3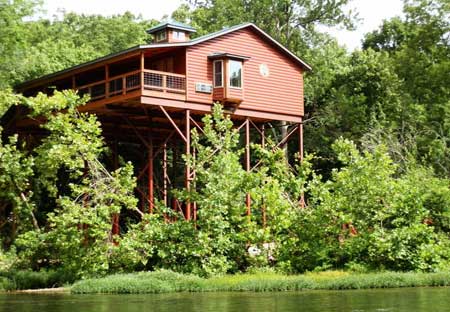 Finer secluded lodging on the the North Fork will not be found!  We are open Year-Round!
The River of Life Farm Outfitters offers several tree house selections (as featured in the Wall Street Journal), cabins, log cabins, and lodging selections for the North Fork River. We are the ultimate Ozark MO cabin vacation location and one of only a few places in the world where you can stay in a real tree house offering modern amenities, spectacular views, and 350 acres of secluded privacy. We can accommodate anyone from the single fly fisherman in a secluded cabin to a romantic couple in one of our honeymoon cabins to several groups, family reunions, or corporate meetings.
Only at the River of Life Farm can you gain wade fishing access to the "miracle mile" of the Wild Trout Management Area of the North Fork River. Please explore our North Fork lodging offerings online by clicking on an image to view more pictures, information, and rates for a particular offering.
Check in / Check out Times:
Official check in is 3: p.m. checkout 11: a.m.  BUT if you get here @ 8: a.m. and your cabin is ready you may occupy.  On the other hand if you have no one waiting for your cabin @ checkout and you wish to extend, we are happy to work with you.
Click on our Cabins below for more information. Also check out our Rates page for Missouri Cabin comparisons.