| Treehouse Cabins, Missouri Cabins, Missouri lodging, romantic, canoeing, fishing, fly fishing, trout fishing
River of life Farm Treehouse Cabins - lodging, fly fishing and Canoeing in the Missouri Ozarks, trout fishing, camping, hiking, and more.
lodges missouri, lodges ozarks, lodges near Springfield MO, lodges near Branson MO, missouri ozarks, missouri conference center, ozarks conferences, Missouri Cabins, lodging Missouri, North Fork River, Missouri Treehouse Cabins, ozarks fly fishing, Missouri trout, Missouri trout fishing, Missouri lodges, Missouri cabins, Missouri lodging, Missouri hiking, Missouri camping, Missouri canoeing, Missouri float trips, Missouri fishing, Missouri honeymoon, Missouri romantic getaway, Missouri conferences, Missouri family reunions
800
page-template-default,page,page-id-800,page-parent,ajax_updown_fade,page_not_loaded,,large,shadow3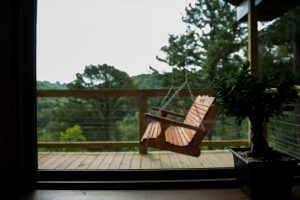 River of Life Farm offers several tree house selections (as featured in the Wall Street Journal), cabins, log cabins, and lodging selections for the North Fork River. We are the ultimate Ozark MO cabin vacation location and one of only a few places in the world where you can stay in a real tree house offering modern amenities, spectacular views, and 350 acres of secluded privacy. We can accommodate anyone from the single fly fisherman in a secluded cabin to a romantic couple in one of our honeymoon cabins to several groups, family reunions, or corporate meetings.
Only at the River of Life Farm can you gain wade fishing access to the "miracle mile" of the Wild Trout Management Area of the North Fork River. To view more pictures and information on each lodging selection please click on the images below.
Check in / Check out Times:
Official check in is 3: p.m. checkout 11: a.m.  BUT if you get here @ 8: a.m. and your cabin is ready you may occupy.  On the other hand if you have no one waiting for your cabin @ checkout and you wish to extend, we are happy to work with you.
Click on our Cabins below for more information. Also check out our Rates page for Missouri Cabin comparisons.

The River Rose cabin sits at the top of the ridge over-looking the river valley. This cabin is full of vibrant colors, beautifully crafted furniture and everything you and that special someone will need to relax and reconnect.
This cabin for two offers a direct view of The Falls, one of the beautiful landmarks along the North Fork River. Just feet from trail heads and decorated with care, this is a great choice year round.
The Grapevine Cabin offers privacy and every modern convenience for two. Nestled on the hillside and surrounded by trees, this cabin is a must see in person!
This cabin for two has it all. The ornate canopy bed might be its crown jewel, but the whirl pool tub and view of the river valley below are close seconds. Don't take our word for it though!
Built on the edge of the ridge, this cabin for two offers a view of the river valley below and plenty of comfort and style.  This is the perfect setting  to create memories with your loved one.
The Hideaway cabin sits a short distance from the river's edge, on the hillside. Nestled in the tree tops you and your loved one will be surrounded by nature with all the comforts of home.
The Dogwood cabin is romantic and secluded. A cabin built for 2 nestled in amongst the pines. This very special cabin is a very short walk from the North Fork River.
The Tree Top Loft is a beautiful secluded cabin in a spectacular setting on an Ozark mountain. Perfect for a romantic getaway for 2 or up to 4 guests.
The Mountain Log Cabin Lookout (Built of native Ozark Red Oak logs) offers seclusion like no other cabin on the North Fork River, and can accommodate up to 8 guests. It sits isolated, high on a mountain offering a spectacular view of the river.
The Whispering Pines cabin is romantic and secluded, built for two and  nestled in amongst the pines. This very special cabin is a short walk from the river and the view of the river from the deck is a must see!
The Tree Top Cedar Chest cabin has a stunning interior with rustic cedar walls and custom furniture. The perfect cabin for two is a short walk from the North Fork River.
The White Oak Cabin is one of our 4 newest romantic couple cabins on the North Fork River. You're sure to enjoy a Missouri Romantic weekend in this fully equipped treehouse cabin.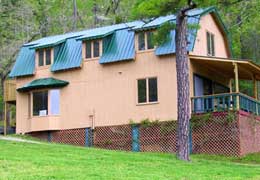 The Chalet
The Chalet is a newly remolded two story bungalow with 2 full baths, 2 1/2 bedrooms. The Chalet, with room to accommodate up to 10, features a fully equipped kitchen, dining room and a spacious living room.
These suites are designed to accommodate 2 or 4 with everything you need to make your stay memorable. Each suite features a full bath and a kitchenette and is air-conditioned.
The Conference Center is beautifully appointed with native Ozark cedar paneling and rustic log railings. It is available for Business meetings, conferences, retreats, weddings, banquets, family reunions, and many other special events.
Call us to discuss your upcoming event and we will work with you to make it a very special occasion.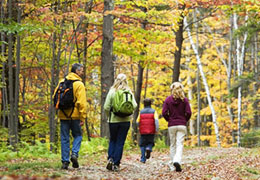 We are open YEAR ROUND! Check out our Rates page to see all our Missouri Lodging offerings and rates. Or make your Online Reservations now or call (417) 261-7777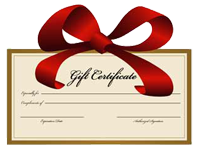 Purchase a Gift Certificate for that special person. They're sure to enjoy a wonderful stay at Missouri's finest Treehouse Cabins.
[/three_col_col2]