| Missouri Fly Fishing Guide Shelby Nold
The ROLF, Outfitters for the North Fork River, Missouri Ozarks; adjacent to the Mark Twain National Forest: trout fishing, flyfishing, lodging, camping, missouri canoeing, hiking, and more
River of Life Farm, outfitters, North Fork River, mark twain national forest, wild trout, north fork, MO, falls, fly fishing, flyfishing, fly-fishing, lodges, cabins, lodging, wild trout management area, guide services, hiking, camping, canoe, canoeing, missouri canoeing, trout fishing, fishing, ozark, secluded camping, missouri ozarks, Shelby Nold
4927
page-template-default,page,page-id-4927,page-child,parent-pageid-773,ajax_updown_fade,page_not_loaded,,large,shadow3

Missouri Fly Fishing Guide Shelby Nold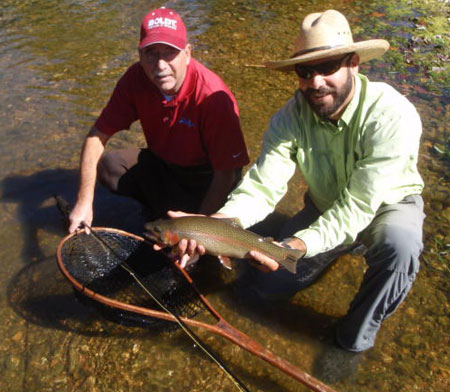 Guiding on the North Fork of the White River since 1999, Shelby Nold, is an experienced guide. As a child Shelby's father would take his family to Bennett Springs State Park for camping / fishing trips. This is where Shelby's interest in trout fishing began. It wasn't long before he had taught himself to fly-fish. His interest in fly-fishing grew into a passion as his skill, knowledge and techniques also developed.
or email Shelby: 
By the time he was in college Shelby had many years of fishing under his belt. Shelby attained his B.S. degree from Missouri Western State University in Health and Exercise Science, while also playing collegiate football for the University. Not every college offers electives like fly tying, but in 1997 they did. You can imagine that was one electives Shelby took advantage of.
In 1998 Shelby married his wife, Sheree and their fly-fishing adventures began on their honeymoon, fishing in Townsend, Tennessee. In 1999, Shelby and Sheree Nold made their first visit to River of Life Farm on their first wedding anniversary.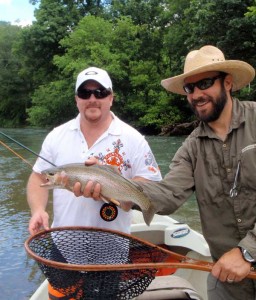 Shelby had been to Dora, MO quite a bit as a teenager and into college years, because his close friend had family in Dora. He was familiar with the North Fork of the White River and the surrounding areas, though he didn't learn of the River of Life Farm or know Myron and Ann McKee until that spring of 1999.
Soon Shelby had the opportunity to begin guiding for River of Life Farm. That friendship and working relationship has continued to be a blessing all these years later.
(Click on the following photos to enlarge)
Experience & Travels
Over the years the North Fork of the White River has become natural and fluent to Shelby. The years of fishing has provided him ample opportunity to fish outside these premier Midwest wild trout waters in the states of Montana, Colorado, Arizona, Tennessee and Alaska.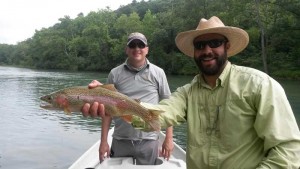 In 2003, Shelby began to guide Alaska fishing trips for Alaska Quest River Trips. He guided in Alaska for over 10 years, and serving as Head Guide for 7 of those years. Fishing other rivers offer a broader understanding of habitat, conservation, and the overall trout fishing experience.
Shelby has said often that the Northfork of the White River and these Ozark Mountains are the closest thing in the Midwest to the beauty of the West in the Rocky Mountains. This river offers such a treasure to those who find it, and even more so to those who appreciate it.
What to Expect
Shelby is best known for the selfless way he guides. His full intent is helping and instructing each client. Clients time and again appreciate their time spent on the river.
Clients also leave satisfied and pleased with the overall guide trip. Catching beautiful fish, yes, plus enjoying drifting in style and comfort in a ClackaCraft Drift Boat.
Shelby's full day guide trips come with a complete lunch, that gains high remarks every time. He is always eager to please and will cater to most preferences including, gluten intolerances, allergies, and even dietary preferences (vegetarian and vegan included).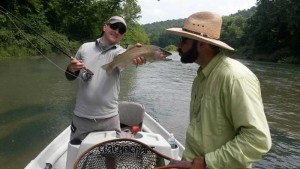 More About Shelby
In 2001 Shelby and his wife began another adventure. It was one that led to the incorporation of a non-profit 501(c)3 organization in 2003, Majestic Outdoor Adventures, Inc. MOA is an organization that uses the OUTDOOR world to bring life, adventure, direction and purpose into peoples lives. Majestic Outdoor Adventures accomplishes this through several avenues: a youth mentoring program, wilderness backpacking trips, retreats, family connection camps, and professional guided hunting / fishing trips, just to name a few. The whole OUTDOOR world is our conference room and where we do business. Approximately 30% of every guide trip goes directly into the non-profit MOA. You can learn more about this non-profit at www.majesticoutdoors.com